BEACH HOTELS IN COTONOU

CAMPUS BENIN
BEACH HOTELS IN COTONOU
There are many hotels in cotonou and some of them can be found close to some beaches in COTONO
Here are some of them :
Villa Cocotiers A11 Cotonou – 4.9 km from the beach
Around 30 miles from Ouidah Museum of History, Villa Cocotiers A11 offers lodging with a garden and a balcony that has sea views. This oceanfront residence provides free WiFi, access to a terrace, and unrestricted private parking.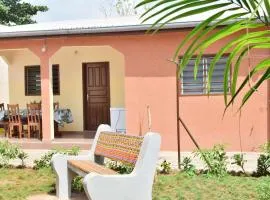 Akwa Guesthouse Cotonou Cotonou – 250 m from beach
A guesthouse with a garden, free parking, and a patio is available at Akwa Guesthouse Cotonou, which is located in Cotonou and is 1.4 kilometers from Fidjrosse Beach. The property was constructed in 2000, and Ouidah Museum of History is 33 miles away. Garden views are available to visitors. The best price in Cotonou! The best hosts ever! Everything was fine and the room was clean.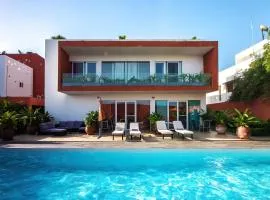 Hotel Maison Rouge Cotonou 4 stars  Cotonou – 1.3 km from the beach
Hotel Maison Rouge in Cotonou Two outdoor swimming pools and a restaurant are available in Cotonou. Free WiFi is available.
Each of these rooms has a minibar and air conditioning. They have a shower and a bathroom of their own. The place was beautiful in every way. Really attentive and accommodating employees. Everything was clean and had great amenities. We felt really pampered and well-taken care of. strongly advised.
Golden Tulip Le Diplomate 4 stars  Cotonou – 450 m from the beach
The Golden Tulip Le Diplomate in Cotonou, which is 1.2 kilometers from the Angola Embassy, offers free WiFi and an outdoor pool.
Each room has a desk, flat-screen TV with satellite channels, air conditioning, and a coffee maker. There is a wardrobe in each room. Every room has a bath or shower and complimentary toiletries. Beautiful beach views and a short stroll to Obama Beach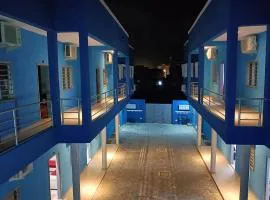 Résidence Maryhouse Cotonou – 1.9 km from beach
Résidence Maryhouse, which is 2.4 kilometres from Fidjrosse Beach, provides a restaurant, a bar, and air-conditioned lodging with a balcony and free WiFi.
Each apartment features a private bathroom with a bidet and complimentary toiletries, a terrace with city views, a satellite flat-screen TV, a dining area, and a well-equipped kitchen. Towels and bed linen are available from the property for an additional fee for your convenience. It has a fantastic, lovely concept. The host was incredibly helpful.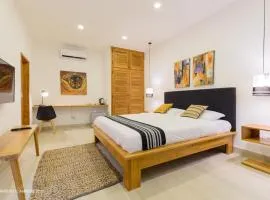 L'imprévu L'annexe Cotonou – 200 m from beach
L'imprévu L'annexe, located in Cotonou, provides beachfront lodging 300 meters from Fidjrosse Beach and features a number of amenities, including a garden, a patio, and a bar. The Ouidah Museum of History is 35 miles away from the allergy-free property. The place is spotless, comfortable, and in a prime location. Particularly Thibaut, who made this trip unforgettable, the service was outstanding. Once again, many thanks. I'll return right away from the airport, which is a 5-minute drive away. Continue your wonderful effort!
Dodoo Lodge Cotonou – 450 m from the beach
Dodoo Lodge offers air-conditioned lodging with free WiFi and access to a patio in Cotonou, 600 meters from Fidjrosse Beach.
The apartment features a flat-screen TV in the living room, as well as a private bathroom with complimentary toiletries and a shower. Some of the apartments have a kitchen with a refrigerator, an oven, and a microwave. The setting is pleasant and the location is quite tidy. a great location to be. I wish I could stay for a few extra days. I'm certain to return. Many thanks to the inn staff.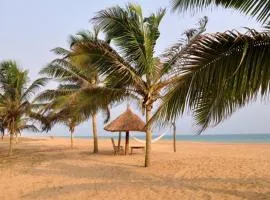 Hôtels Résidences Easy Cotonou – 400 m from beach
350 meters from Fidjrossè beach in Cotonou, Hôtels Résidences Easy offers accommodations with complimentary WiFi, a restaurant, a spacious living area, and a rooftop patio.
.
This hotel's rooms all have air conditioning and flat-screen TVs with satellite channels. Some units come with a comfortable seating space. Certain rooms include a balcony or terrace. Private bathrooms with hot water systems and bathtubs are provided in each room. The best hotel for frequent travelers seeking a medium budget hotel is one with a great location, excellent service, and a safe environment.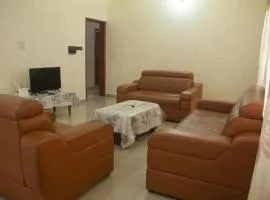 Résidence Le Cador II à Cotonou Cotonou – 9 km from beach
Résidence Le Cador II à Cotonou is a property with a common lounge and a lawn, situated in Cotonou, 47 kilometers from the Ouidah Museum of History. The Mobee Slave Museum is 50 miles from the air-conditioned lodging, and visitors can take use of free WiFi and on-site private parking.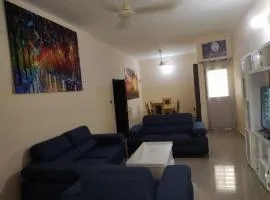 Résidence Hugo & Matéo à Cotonou Fidjrossè plage Cotonou – 550 m from beach
Résidence Hugo & Matéo à Cotonou Fidjrossè plage is 1.2 kilometers from Fidjrosse Beach, while Ouidah Museum of History is 35 kilometers away. Cotonou Cadjehoun Airport, located 1 km from the lodging, is the closest airport.
BEACH HOTELS IN COTONOU BEACH HOTELS IN COTONOU BEACH HOTELS IN COTONOU BEACH HOTELS IN COTONOU BEACH HOTELS IN COTONOU BEACH HOTELS IN COTONOU BEACH HOTELS IN COTONOU